Christina Studios & Apartments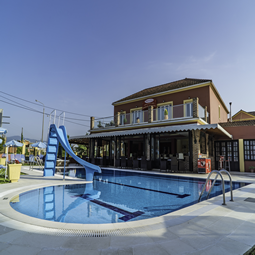 Pool
There is a good-sized pool in the heart of the grounds. It has its own slide, and there is also a childrens pool nearby. A clutch of sunbeds and parasols frames the water.Outdoor poolThis pool is great for children and adults alike. There's plenty of space for a swim and there's even a slide to wear the little ones out.
♦Childrens pool The children are sure to love this shallow pool. It's ideal for anyone from inexperienced swimmers to water babies. ♦Waterslide
Entertainment
Greek nights, Karaoke,Quiz nights, Bingo
The bar doubles up as an entertainment venue in the evenings, when bingo, karaoke and quizzes are put on.
There are also regular Greek barbecue nights with plenty of traditional dancing.
♦Greek nights
For a real taste of Greece, the hotel organises Greek nights in the week.
♦Karaoke
♦Quiz nights
♦Bingo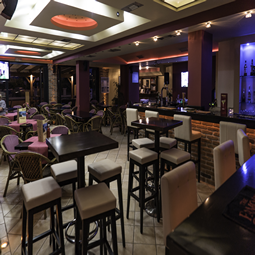 Food & Drink
in our Restaurant-Bar
The bar-slash-restaurant offers home-from-home favourites, like morning fry-ups, as well as homemade local dishes.
Try the stifado, a beefy stew, or the kleftiko, a slow-cooked lamb and veg parcel.Snack bar and restuarantIn between mealtimes, the snack bar has a light bites menu to tide you over until dinner.
Pool bar
The pool bar offers plenty of variety when it comes to cooling off under the hot sun. With a menu of drinks, you're sure to find something to suit everyone.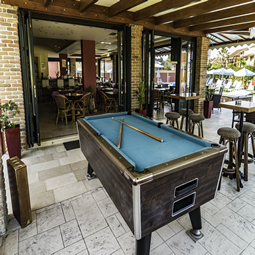 Sports & Activities
Our entertainment includes:
♦Birthday parties
♦Live music
♦Sky Sports on our large TV's and projectors.
Also we have:
♦Pool table
♦Computers, inside and outside sitting and internet access, the entire family can enjoy their time with us.
♦Head for the beach, meanwhile, and you will find lots of places offering watersports.